The Moment of Letting Go – a new 5 star must read from J.A. Redmerski. I loved this book so hard!
~Jenn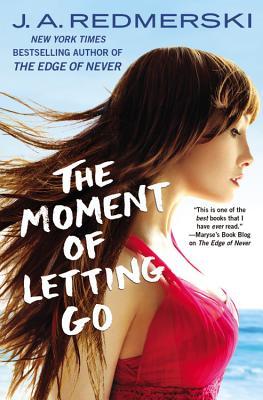 THE MOMENT OF LETTING GO by J.A. Redmerski (August 11, 2015; Forever Trade Paperback)
You can follow the rules or you can follow your heart…
Sienna Murphy never does anything without a plan. And so far her plans have been working. Right after college, she got a prestigious job and gained the stability she'd always craved-until work takes her to the sun-drenched shores of Oahu and places her in the path of sexy surfer Luke Everett. For the first time, she lets her heart take control. Drawn to his carefree charm, she makes a spontaneous and very un-Sienna-like decision to drop everything and stay in Hawaii for two more weeks.
Luke lives fast and wild. When he meets Sienna, he's convinced that some no-strings-attached fun is just what she needs. As their nights quickly turn from playful to passionate, Luke can't deny the deep connection he feels. But there's a reason Luke doesn't do long-term. He can't promise Sienna forever, when the enormity of his past has shown him just how fragile the future can be . . .
5 Stars
The Moment of Letting Go is the kind of book you can get completely lost in! I fell in love with this book from the very start and by the end I felt like it completely consumed me. I've been a J.A. Redmerski fan for a while and this book reminds exactly why I love her so much! She has such an ability to create amazing characters and powerful stories.
Sienna is a young, career driven woman with success on her mind. She works as an event planner and is very good at what she does. Her job brings her to Hawaii and while it certainly doesn't start out as a vacation, she ends up turning it into one.
Luke is a free-spirted risk taker. He believes in living life to enjoy it, not to spend it earning the next dollar. He lives for surfing and cliff diving and other dangerous sports. But, he's not as laid back as he seems. There are things in his past that make it hard for him to move forward in life.
Luke and Sienna meet on the beach and there is an instant connection between the two and after spending a little time together Sienna agrees to extend her stay for a few weeks and take a vacation. The two spend the next two weeks together and what was supposed to be a fun break soon turns into something much more.
I truly loved this book! Sienna and Luke are both amazing characters that I fell in love with immediately. Luke is wonderful – he definitely makes the book-boyfriend list! He was so perfect and just what Sienna needed in her life. There was definitely a slow burn to this story but it had a wonderful flow that absolutely consumed me. I felt like I really got to know both Luke and Sienna and wanted them to be my friends. And their story so touched my heart. I felt like this wasn't just a love story but a journey of healing and learning about yourself. It was beautiful and touching and soul stealing. The Moment of Letting Go is a book that will stay with me for a long time!
I received an advance copy to review for The Geekery Book Review.
Excerpt
Then he gets up and grabs my hands from the tops of my bare knees, pulling me to my feet.
"We're going swimming," he says. "And we'll talk more about this later…like on the day your vacation is over and you're standing at the gate in the airport about to kiss me goodbye."
"Wow, you really think highly of yourself, don't you?" I can't keep the laughter from my voice.
"Damn straight!" he says and pulls me along beside him. "Before these two weeks are over, I can guarantee you three things." He holds up three fingers as we continue onward toward the water. "One"—he holds up one finger—"you'll never want to go back to San Diego once Hawaii is done with you." He holds up two fingers. "Two—that photography love of yours will start to take the place of everything else in your life. And three"—he wiggles three fingers and we stop on the beach where the water can pool around our feet—"you'll kiss me at least once before you go home."
I blush hard and it feels like my eyes are bugging out of my head. "I might peck you on the cheek or something, but—"
"No," he says, smiling and quite serious, "it'll be a full-on, tongue-dancing kind of kiss."
I smack him playfully on the arm—something is fluttering around inside my belly.
"Geez!"
Luke grabs my hand and pulls me out to the water with him, where we swim and hang out on the cliffs until late in the afternoon. People come and go throughout the hours, sometimes leaving us with Alicia, Braedon, and a few of their close friends to have the area to ourselves for a while before more people show up in intervals.
"Backflip!" someone says just before Luke jumps into the water for probably the twentieth time.
And every time he does it, it ties my stomach up in knots. But there's something about him that I can't quite figure out when I watch him leap off the edge of that cliff; it's not overconfidence or showing off or recklessness, but something deeper, more profound. Maybe it's a sense of freedom, or a natural high that consumes him while he's in the air, as if he had been born with a pair of wings that only he can see. But the more time I spend with him, the more intrigued I become. Sure, he's gorgeous and funny and polite and all the kinds of things—so far—that would make my mom love him to death. But what intrigues and excites me more is how he
kind of makes me want to jump off that stupid cliff regardless of how scared I am of it.
Buy the book!
About the author:
A. Redmerski, New York Times, USA Today, and Wall Street Journalbestselling author, lives in North Little Rock, Arkansas with her three children, two cats and a Maltese. She is a lover of television and books that push boundaries.
Connect with the author!