Ellery Mountain Series
The Fireman & The Cop

Rescuing a cop from a burning precinct is in Max's job description; falling in love was never part of the deal.
Max Harrison moved from the city to take up a role as assistant to the mayor, while also a volunteer firefighter. When he meets Finn Ryan in Ellery, he falls in lust that burns as hot as the fires an arsonist is setting in town.
Finn Ryan is a cop, and somehow he's attracted trouble. Going back into a fire to rescue the town drunk is just the start. Now he has to rely on the man he's falling for to make sure it doesn't end with him dying.
4 Stars
A firefighter and a cop – need I say more? Seriously though, this was a fun and quick read that was action packed for both Finn and Max. I really liked these two and loved how their relationship developed even amidst the chaos that seemed to be all around them.
When the police station is deliberately set on fire, Finn rushes in to save someone who's in lockup, even if he's the grumpy town drunk. When Max is called to the scene he rushes in to save Finn, and he gets there just in time. Despite injuries and smoke and fire, these two click immediately, they have an undeniable chemistry. Though, as they try to get to know each other Max gets pulled away for fires started around the town and Finn keeps ending up in dangerous situations, certainly seems like it's personal. These two try to figure out who is after Finn and why, and in that process totally fall head over heels for each other!
I loved these two together, yes there's insta-love but it just feels right. Even though this is a quick read, it's full of action, super hot chemistry and sweet love. The romance between Max and Finn is tied in with the mystery of who is targeting Finn very well and definitely held my attention. I love that this a start of a series because I can't wait to see more of these two as well as get to know the rest of the group better!
The Teacher & The Soldier

Soldier, Daniel Skylar, falls hard and heavy for school teacher Luke Fitzgerald. How can he make him stay in Ellery?
Luke Fitzgerald left Ellery Mountain for college and vowed never to come back. When his abusive father is murdered, he has no choice but to return. Luke only goes home to sell off his share of the Ellery Mountain Cabins, but everything changes when he meets the son of the other owner. Daniel Skylar lives every day to the limit and sees a future in Luke.
It doesn't matter what Daniel says, or how much he needs Luke. Luke isn't staying once everything is sold off. Surely Daniel can understand that what they have between them is just a two-week fling; there is no way it could be love.
Can Daniel persuade Luke that they are in love, and they can build a future together?
4.5 Stars
RJ Scott definitely knows how to write broken men and completely nails it with Luke! Oh, he just broke my heart and had me rooting for a super schmoopy HEA for him. Daniel is the perfect match for him, able to work through his panic and pain and I absolutely adored these two! I was already a Daniel fan after The Fireman and The Cop but totally fell for him and his story.
Luke is returning to Ellery for the sole purpose of signing some papers, settling his father's estate and then getting back out. He doesn't want to be there, with the memories of his abusive father who was recently murdered. Half of the property Luke's father owned belongs to Daniel and his mother and while the two don't start off so well, they find something special together.
Daniel may come off as the tough former Marine, and no doubt he's tough, but he has such an amazing heart! Between his goals of opening a facility for soldiers coming home with PTSD to his compassion, understanding and love for Luke, he's just amazing. Initially these two intend to spend two weeks enjoying each other and their super chemistry but as Luke prepares to leave both men realize they have much deeper feelings than they ever expected.
This story gave me all the feels! I didn't expect that much emotion packed into a short story and I loved it! The relationship between these two felt so real and raw. Once again, I love this town and these characters and am already ready for the next book.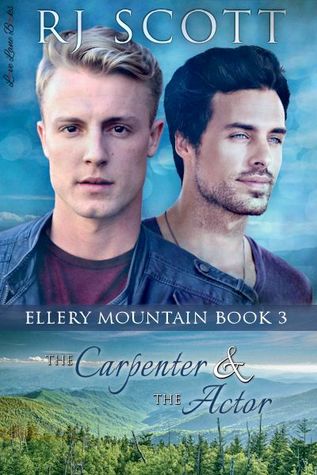 The Carpenter & The Actor
Jason is running from tragedy, hiding in Ellery, but it's only when he meets Kieran that he finds love.
Jason McInnery, hounded by the paparazzi after his brother's death, runs to the one place where he hopes people won't sell him out. The place where he was born. Hiding in the tourist cabins at Ellery Mountain Resort out of season, he thinks he finally has room to breathe.


Kieran Dexter is a man who knows what he wants; gorgeous actor Jason tied up and begging. When the hottest sex he's ever had turns to feelings of love, he's faced with convincing Jason to give them a try and stay in Ellery.
4 Stars
Another great addition to the Ellery Mountain series! I love all of these characters and the fact that they are all part of each other's books and meeting the new guys! Kieran is exactly what I thought, spunky and sassy but adorably sweet as well. Jason is a great match for him, strong and caring but a challenge as well.
It was fun to see the differences in these characters, Kieran is a carpenter and a humble, small town guy while Jason is a well-known and very successful actor from Hollywood. He needs some down time where he can hide out as he still tries to come to terms with his younger brother's death a year ago. These two meet at the cabins and with the rest of this crew, something that starts out as a couple weeks of fun turns in to more.
These two were sweet together, right from the start. Kieran is certainly attracted to Jason but doesn't swoon over him because he's famous, he genuinely likes him. They do make a great couple, actually giving each other what the other person needs so easily and naturally. I also loved how they understood each other and neither man had to give up who they were to be happy together, they figured it out together.
I seriously love this series and can't wait to start the next book! These Ellery Mountain boys are some of my favorites!
May 10 – Reading In Sarah's Corner, Bonkers About Books, MM Good Book Reviews
May 12 – Dog-Eared Daydreams, Foxylutely
May 13 – Padme's Library
May 15 – Scattered Thoughts & Rogue Words
May 17 – The Geekery Book Review, Archaeolibrarian – I Dig Good Books, Keysmash
May 19 – The Romantic Fanatatic, Making It Happen, Jim's Reading Room, Bayou Book Junkie, Xtreme Delusions
Author Bio


RJ Scott is the bestselling romance author of over 100 romance books. She writes emotional stories of complicated characters, cowboys, millionaire, princes, and the men and women who get mixed up in their lives. RJ is known for writing books that always end with a happy ever after. She lives just outside London and spends every waking minute she isn't with family either reading or writing.


The last time she had a week's break from writing she didn't like it one little bit, and she has yet to meet a bottle of wine she couldn't defeat.


mailto:rj@rjscott.co.uk
www.facebook.com/author.rjscott?ref=ts&fref=ts
www.goodreads.com/author/show/3432558.R_J_Scott
www.librarything.com/author/scottrj
GIVEAWAY