Oh my gosh you guys, I am so excited to share this book, In Bed with the Beast by Tara Sivec! I loved everything about this book, it is an absolute must read!
Happy Reading!
~Jenn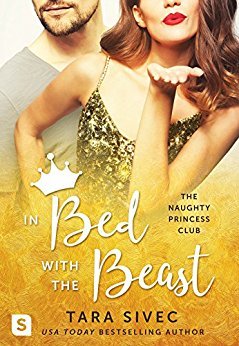 A tale as old as time: she needs a place to stay, he's a grump with a secret and an extra room…can love find a way?
Meet the Naughty Princess Club, a series from USA Today bestselling author Tara Sivec that brings readers to Fairytale Lane and the hilarity—and romance—that three women fall into once they decide to strut their stuff and bring on their own happily ever after.
Living in her overprotective dad's basement, shy Belle lives her life through books. Being a part of the Naughty Princess Club is the first adventure she's ever had, plus she desperately needs the money to save one of her favorite places – the local library.
But when her new friends and new business gets her kicked out of her dad's house, Belle is rescued by the surly Vincent "Beast" Adams who invites her to be his house guest until she gets back on her feet. Despite his attitude problem and long list of rules, Belle finds herself warming to the muscled man with a penchant for growling and starts seeing a gentle side to him that wasn't there before.
Yet there's a room that Beast keeps locked and Belle keeps getting hints that Beast is hiding something…can a nerdy librarian tame the beast or will their romance be over before it has a chance to blossom?
5 Stars
This is the first book I've read in this series but definitely not the last! I LOVED these characters so hard and I seriously want to be friends with them! Belle is a hot mess in the best possible way, but she is determined to get it together and be a strong, independent woman! Beast, aka Vincent, is growly and broody and oh so much more. These two together made me laugh and swoon and it was just perfection for me.
Belle runs the local library but it's about to be closed down, funding and all that fun stuff. She's determined to save her library though and despite her lack of skills when it comes to men and flirting she's going to become a stripper to help save the library. Vincent comes to her rescue when he finds her sleeping in the library without a place to stay. He has some secrets though, and he's trying to protect Belle and help her out. These two have great chemistry, even if Belle is a bit on the goofy, fact rambling side.
I loved everything about this book, from Belle's weird encyclopedia of a brain to Vincent's growly nature. These two just work together, but there's always a twist in the fairy tale and I really liked how it all came together for these two. The relationship that builds between these two is a great journey, but there's also a fantastic supporting cast to fall in love with too. I definitely need to play catch up with the first book, but as a total Beauty and the Beast nerd girl this will always be a favorite for me. I think Tara Sivec has worked her magic again with this story, making me laugh and feel and totally fall in love. A definite must read!
Tara Sivec is a USA Today best-selling author, wife, mother, chauffeur, maid, short-order cook, baby-sitter, and sarcasm expert. She lives in Ohio with her husband and two children and looks forward to the day when all three of them become adults and move out.
After working in the brokerage business for fourteen years, Tara decided to pick up a pen and write instead of shoving it in her eye out of boredom. She writes in a wide range of genres including Romantic Comedy, Romantic Comedy/Mystery, Romantic Suspense, New Adult Drama, Contemporary Romance and Psychological Thriller. Her novel Seduction and Snacks won first place in the Indie Romance Convention Reader's Choice Awards 2013 for Best Indie First Book and she was voted Best Indie Author in the Indie Romance Convention Reader's Choice Awards 2014.
In her spare time, Tara loves to dream about all of the baking she'll do and naps she'll take when she ever gets spare time.